Kulina
rya w
as started by a group of Filipino foodies living in Sydney, who are passionate about the Filipino culture and it's colourful cuisine. E
ach month we will showcase a new dish along with their family recipes. By sharing these recipes we hope you find the same passion and love for Filipino food as we do.
This month's theme is Decadence.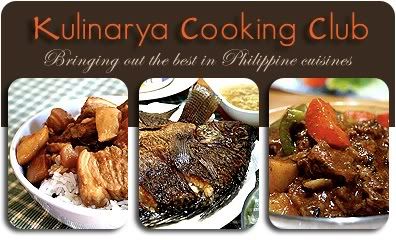 For me, anything other than toast or cereal for breakfast is decadent. Firstly, I eat breakfast quickly in between getting both children fed and ready for the day. Secondly, if I do eat, it's pretty boring. I eat just enough to get me through to lunchtime.
To have Champorado for breakfast is very decadent for me. Not only it's because it's more than the usual dull cereal but because it's chocolate. Chocolate for breakfast, I recommend it.
Champorado is usually eaten for breakfast in Philippines. It's usually accompanied by fried tuyo (salted dried fish). It's stinky but lovely. I opted not to include in my breakfast. It really does stink out the house when you cook it therefore I am forbidden to cook it indoors. The only option was to cook it outside but I wasn't brave enough to face the cold.
1/2 cup glutinous rice
5 cups water
5 tbs white sugar
2 tsp cocoa powder
50g dark chocolate, chopped
evaporated milk
1. In a pot, add the glutinous rice and water. Boil till the rice is tender and most of the water has been soaked up by the rice.
2. Combine the sugar ad cocoa powder in a small bowl then add to the rice. Stir to combine.
3. Add the dark chocolate.
4. Stir and leave on gentle bubble till the chocolate has melted and it has thickened.
5. Serve with a drizzle of evaporated milk on top.
NB: If you want it sweeter, simply sprinkle more sugar on top
You can check out what the other members of the Kulinarya club made for this month's theme
here
.
Bon Appetite,
Cherrie