Kulina
rya was started by a group of Filipino foodies living in Sydney, who are passionate about the Filipino
culture and it's colourful cuisine.
Each month we will showcase a new dish along with our family recipes. By sharing these recipes we hope you find the same passion and love for Filipino food as we do.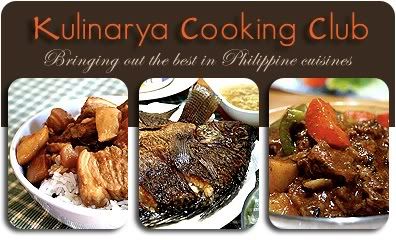 This month's theme is Pinoy BBQ!
Filipino's love BBQ. In Philippines, when walking down the small streets in my Auntie's subdivision, people are barbecuing all sorts of meat in front of their homes to sell. Some meats I know, some... hmmm, I don't want to know. But, no matter what is cooking on their barbecues, it always smell so enticing. The smell of barbecues gets me drooling all the time.
Barbecue is another one of those foods that are always present at a Filipino gathering. It is also found at all Filipino Fiestas. Most especially, barbecue pork on skewers.
Here's what I barbecued.
Whole Squid stuffed with raw sugar,then
head and tentacles secured by
toothpick
Pork chops marinated in salt, vinegar and garlic
Pork skewers marinated in Filipino BBQ sauce
Marinade for the pork skewers is very simple. I don't usually measure out the ingredients but play it by feel. The main ingredients I always include is lemonade, tomato sauce, pineapple juice, sugar, salt and pepper. The marinade needs to be thick so it can coat the meat. Sometimes, if I find that the marinade is a little thin after marinading the meat, I place in a small pot and reduce it. I then baste the meat with the thickened marinade.
It is currently Winter down here in Melbourne, so it was very cold when we were barbecueing (or should I say, Hubby and my dad, were barbecuing). However, no matter the temperature or weather outside, barbecues are always welcomed at meal times.
Other members of the Kulinarya Cooking Club: