Kulinarya was started by a group of Filipino foodies living in Sydney, who are passionate about the Filipino culture and it's colourful cuisine.
Each month we will showcase a new dish along with their family recipes. By sharing these recipes we hope you find the same passion and love for Filipino food as we do.
This month's dish? Well, it's Empanadas!
I was quite nervous about this month's featured dish. I've never made it before but I have eaten it many times. It's another popular party dish as it's easy to eat and of course, very tasty. Empanadas originated in Spain. It can contain a variety of fillings however the Filipino versions usually contain beef or chicken with potatoes as fillers. It can be either deep fried or oven fried.
I am proud to say that this is my mum's recipe, which she has had so many years that she can't remember where she originally got it from. It's even written in Tagalog (Filipino). My mum's version uses pork mince with the addition of onions, garlic, potatoes, peas and sultanas for sweetness. It is best to make the filling well in advance as it needs to cool completely before putting in the pastry. This version is deep fried and it be honest, I prefer it than being oven baked. The pastry turns out puffier and lighter as opposed to being more biscuity when it is baked in the oven.
If you don't want to cook all the empanadas in one go, it freezes well for consumption on another day.
For this popular dish, I thought I'd also try a sweet version. I came across some lovely sweet strawberries at our local green grocers and decided to try to experiment and make strawberry empanadas. WOW! It was packed full of flavour and turned out better than I expected. I used the same pastry recipe but added sugar to make it a sweet version. For the filling, I cooked the strawberries with sugar until it was a nice syrupy consistency. For a lighter filling, I added diced fresh strawberries after the filling cooled. The texture and flavour of the empanadas was similar to a jam doughnut but way better.
PASTRY :
2 1/2 cups Self Raising Flour
1/2 cup evaporated milk
2 eggs
2 tsp Baking powder
1 tsp salt
1/2 cup butter, softened
1. Sift the flour, baking powder and salt into a large bowl. Mix
2. Add the butter and crumb into the flour until it resembles bread crumbs
3. Mix together the eggs and milk in a separate bowl and lightly beat
4. Pour the egg and milk mixture into the flour mixture
5. Turn out onto a clean, lightly floured bench and knead until smooth
(for the sweet pastry add, a 1/2 cup caster sugar)
SAVOURY FILLING:
500g pork mince
1 small onion, finely chopped
2 cloves garlic
1 large potato, finely diced
1/2 cup frozen peas
1/2 cup sultanas
salt and pepper
Oil
1. In a lightly oiled pan, sauté the onion and garlic till transparent.
2. Add the mince and cook till brown in colour
3. Add the potatoes, peas and sultanas
4. Season with salt and pepper.
5. Set aside and cool completely before using.
SWEET FILLING :
1 punnet of strawberries (about 250g)
1/2 cup sugar
1/4 cup water
1. Place about 3/4 of the strawberries, sugar and water into a pot on a medium heat
2. Simmer the strawberries till it breaks down to a jam-like consistency
3. Cool completely
4. Before filling the empanadas, take the rest of the strawberries and chop into small dice and add.
TO MAKE THE EMPANADAS:
1. Roll out your pastry and cut into rounds
2. Place about a teaspon of the filling in the middle of the pastry and fold over both sides and enclose the filling making sure there are no holes
3. Crimp the edges with a fork the seal.
4. Deep fry in oil for approximate 5 minutes until golden brown
5. Enjoy!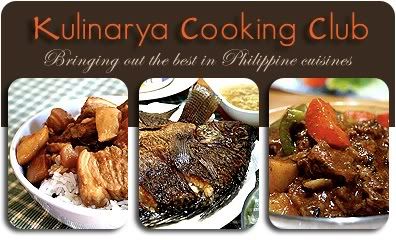 Other members of the Kulinarya Cooking Club:
Trish http://sugarlace.com
Kath http://acupcakeortwo.com
Trissa http://trssalicious.com
Olive http://latesrecipes.net
Peach http://www.thepeachkitchen.com
Cusinera http://busogsarap.com
Asha http://forkspoonnknife.com
Acdee http://acdee.blogspot.com
Valerie http://www.acanadianfoodie.com
Bel http://foodgeek.webs.com
Divina http://www.sense-serendipity.com
Cherrie