Kulina
rya w
as started by a group of Filipino foodies living in Sydney, who are passionate about the Filipino culture and it's colourful cuisine. E
ach month we will showcase a new dish along with their family recipes. By sharing these recipes we hope you find the same passion and love for Filipino food as we do.
This month's theme is Homemade Food Gifts.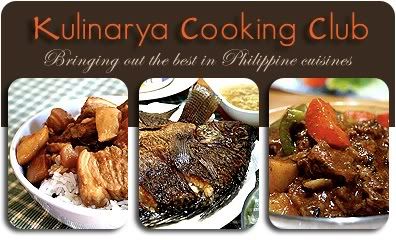 When I read that what this month's theme was I was super excited. The possibilities were endless. So many choices on what to make. Because of that, I couldn't make up my mind and I spent weeks trying to decide. I even consulted with my cooking mentor, my mum.
In the end, I decided to bake Spanish bread.
Originally, I wanted to make
ensaymada
, which is popular during Christmas time in the Philippines but I decided to make a variation of the same dough recipe. Spanish bread is a also another popular bread in the Philippines. It is a sweet bread layered with butter and sugar. I researched the net on why it's called Spanish bread but it seems, no one is certain why.
I searched for a good recipe and I found this one by
Kusina ni Manang
. I liked this version as it uses a bread machine, which made it a lot easier. And anything that makes things easier for all the Christmas baking I'm doing, is a winner for me.
Recipe :
2/3 cup warm milk
1/2 cup warm water
1 egg
2 egg yolks
85grams butter
1 1/2 tsp salt
4 1/2 cup bread flour
1/2 cup sugar
1 1/2 tsp yeast
Filling:
250gram softened butter
1 cup white sugar
Make the dough in the bread machine according to instructions. My machine instructions suggest to put the liquid ingredients first then add the dry ones except the yeast. Make a well in the center of the flour then add the yeast in the middle. By doing this, the yeast doesn't touch the liquid too early enabling the yeast to work better.
Meanwhile, to make the filling, mix the butter and sugar together until totally incorporated.
Once the dough is ready, divide equally into 24 portions. Roll out the dough into long ovals. Spread the butter and sugar mixture evenly over the dough.
To roll the dough, start at one end and roll tightly. Gently cover it with breadcrumbs and place carefully on a tray, cover and leave to rise for 30minutes.
Place in a preheated oven of 180degC and bake for 15-18 minutes or until golden brown.
These are best eaten warm from the oven. It can be kept for 3 days in an air tight container and can be reheated up in the oven.
Other members in the Kulinarya Coioking Club is listed
here
.