Kulina
rya was started by a group of Filipino foodies living in Sydney, who are passionate about the Filipino culture and it's colourful cuisine.
Each month we will showcase a new dish along with our family recipes. By sharing these recipes we hope you find the same passion and love for Filipino food as we do.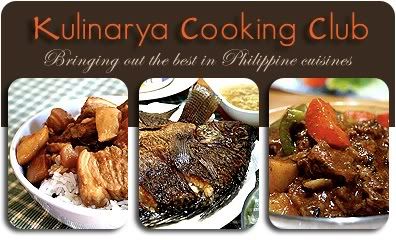 This month's theme is Pancit (Filipino Noodles) chosen by Caroline from When Adobo Met Feijoada Blog and Olive from The Latest Recipes Blog.
For this month's theme, I asked for help. Who else better to ask, than my mum. I knew straight away that I was going to make Pancit Palabok as this is my mum's specialty. She is well known amongst the Filipinos around town for her Palabok.
When I was in my teens, mum and dad used to have a stall at the Melbourne Philippine Fiesta. In fact, they had a stall at the very first Fiesta back in 1982. In those days, it was a small affair and there were only a handful of stalls, mostly all selling food. My parents sold Longganisa, Tocino, Chicharon to name a few. The week before the Fiesta, the house would be full of wonderful smells from all the preparation for the big weekend. My parents made everything from scratch, including Tinapa (smoked fish). I remember when I used to get home from school, it was my job to scale and gut a whole box full of sardines. I hated it at the time but looking back, I am grateful that I was exposed to my parents passion for Filipino food.
They eventually stopped having a stall at the Fiesta however kept selling Filipino food to the local Filipino community. This is where her pancit palabok really became a favorite among the locals.
I am happy to share with you this recipe and part of my family memory.
The sauce it the key part of this dish. It has to be flavourful and it needs to be able to carry all the other flavours of the garnishes. This recipe is enough to feed 2 families or as my dad says "enough to feed the barangay(town)". This is the quantity my mum usually makes.
In a large pot, boil 5 to 6 pieces of chicken thighs with bones and skin on. Have enough water to use as the stock for the sauce (around 4-5 litres). When cooked, remove the chicken and set aside. When cool, remove the skin and shred meat into small pieces.
In another pan, saute 2 medium onions that have been chopped, along with about a bulb of garlic that has been finely chopped. Once it's cooked add two packets (20g) of ground achuete (annatto). Cook further for another 5 minutes.
To the chicken stock, add another litre of boiling water, 2 tbl of chicken stock podwer. Add the onion mixture to the chicken stock and stir. Add the shredded chicken.
In a bowl mix 300g cornflour and enough water to make a slurry. Add this to the pot and mix well so no lumps are created.
Keep stirring until the sauce thickens.
Cook the noodles as instructed on the packet. My mum recommends using thin rice noodles. She cooks the noodles by emerging them in boiling water for a few minutes. Remove and place under cold running water to prevent the noodles from sticking together.
To serve, place the noodles in a bowl and pour the sauce over it. You can now garnish it with any topping you like. Here is what my mum usually puts :
Fried Tofu
2 whole bulbs of garlic, chopped and fried
crushed pork crackling (chicharon)
flaked smoked fish (tinapa)
prawns
Lastly, enjoy!